Lost Filling? How You Should Handle It
Posted on 5/25/2015 by Dr. Call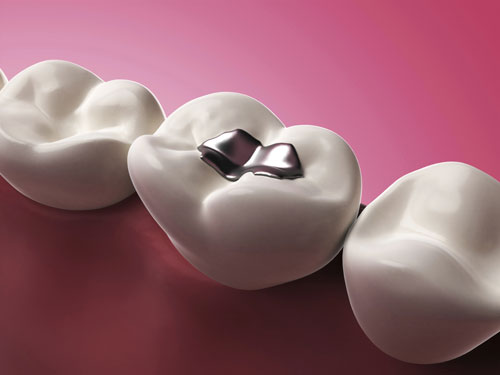 According to the CDC, up to 90% of Americans will get at least one cavity in their lives. Usually, these cavities will require a filling to replace where the decay once was. The fillings in our teeth are very tough and can take a lot of abuse. However, they can become loose and fall out. This can happen by eating sticky or hard foods, or even by grinding your teeth.
If your filling does fall out, you should see us as soon as possible in order for us to refill the tooth. However, in the meantime, here are some things to keep in mind for a lost filling.



Prevention Is Key


It is a bit obvious, but the best way to handle a lost filling is not to lose it at all! Some of the things that you can do to avoid losing fillings include not eating sticky and hard foods and avoid grinding or clenching your teeth. If you do grind your teeth, we can fit you with a night guard, which is a prosthetic that you insert in the mouth when you sleep.



What to Do First


If you actually do lose one of your fillings, you should call us immediately. This is often considered a dental emergency; a tooth with a missing filling is very vulnerable and could become infected if enough time passes.

During your dental examination, we will discuss with you how the filling might have fallen out, and what the best ways are to restore the tooth. Sometimes we will put in another filling. If it was a large filling, it may not be able to be replaced and a crown may be necessary.

Remember: As soon as you discover the missing filling, you should call us immediately.



Next Steps


After you have set up a time with us, try to keep that tooth as clean as you can. A tooth without a filling can get food and bacteria trapped in it.

After you eat, you should brush the tooth as gently as you can. Also, try to swish some warm salt water around the tooth. If you feel any pain or sensitivity, the tooth's pulp may be exposed. You can decrease the pain by taking medicine to relieve the pain. Or, you can fill the hole temporarily with a special filling material that has zinc oxide in it. You usually can find these temporary filling materials at your pharmacy; just ask your pharmacist.

In a pinch, you even could use a piece of sugar free gum to keep the hole covered. Do not use gum with sugar in it, as this will hurt. If you do decide to use a temporary filler, keep in mind that this solution is only temporary and you should still come see us soon. Another option to reduce the pain is to apply some clove oil to the tooth. This can be effective in dulling tooth pain. Clove oil also is available at most pharmacies or in the spice aisle at the grocery store.

Also, remember that taking good care of your teeth at all times will help to prevent cavities in the first place. Brush at least twice per day, and always floss once per day. Flossing daily really can help to reduce your dental bills and problems over time; it removes debris, bacteria and plaque from between the teeth that leads to a great deal of tooth decay.

If you are worried about your risk of losing a filling or having a cavity in the first place,

please call us

at (971) 708-1608 to set up an appointment with us. We will make sure your mouth is well taken care of.